Chain4Energy roundup of the Cosmoverse2022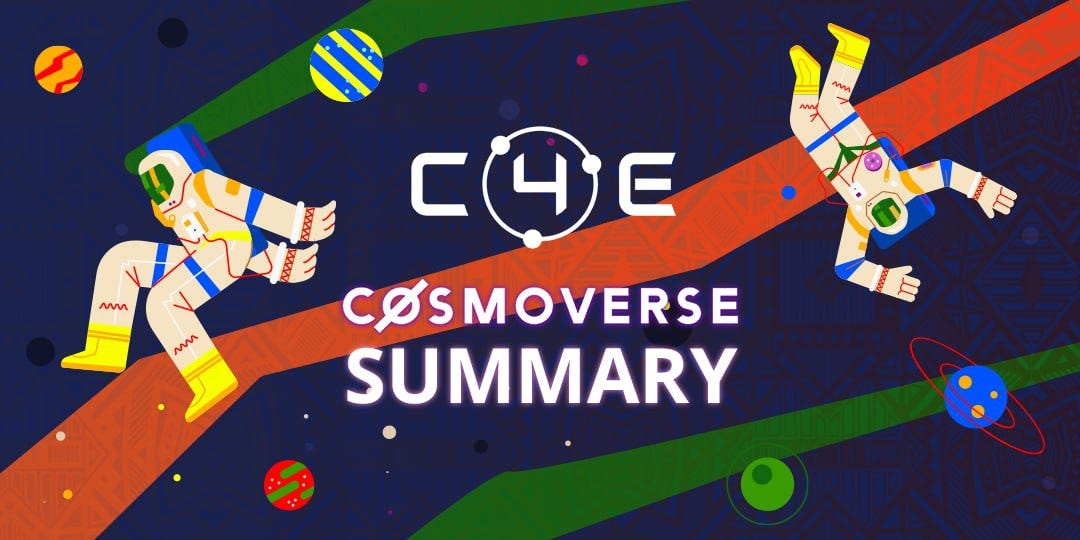 Cosmoverse is the largest crypto conference in the world dedicated to the Cosmos ecosystem. It brings together a wide range of amazing crypto projects from the Cosmos Chain. During the conference, we met many great Web3 projects and Cosmos fans like Cryptocito, L1am_Crypto, cryptodanvans, and even Cosmos creators!
Why did we attend the conference?
The conference aimed to connect participants with the most important representatives of Web3 projects, the Cosmos community, and potential investors. We had our own Chain4Enegy booth, and our team members (including CEO — Dominik Skrobacz) delivered speeches.
The speech made by Dominik was about the challenges that today's energy market faces — like energy poverty, network distribution inefficiencies and growing energy demand. Then our CEO continued to talk about the work that has been already done by the team and the future plans. He mentioned the energy tokenization topics and how the C4E token utility is going to lower the operating costs within the energy market.
Many potential investors & community members stopped by the C4E space. We put a great effort to spread the word about Chain4Energy and evangelizing people about the change that we are bringing to the world with our Green Energy Marketplace.
The overall attendance was great. The whole conference complex was filled with people to the last spot — a rare sight during the bear market!
ATOM 2.0
The Cosmoverse2022 was happening around the transition from ATOM 1.0 to ATOM 2.0. The change brings the Cosmos Hub to the center of interchain security while proposing key changes to ATOM's utility and issuance schedule. The ATOM 2.0 would change the liquid staking protocol, where only a fixed amount of ATOM would be issued per month.
You can read more about what benefits come to users with the ATOM 2.0 transition here

Projects and partnerships
It was a wonderful opportunity to meet with all the amazing Cosmos-based Web3 projects! While we cannot disclose the names yet, but we are looking forward to working on the partnerships forged during the Cosmoverse2022! More news coming soon.